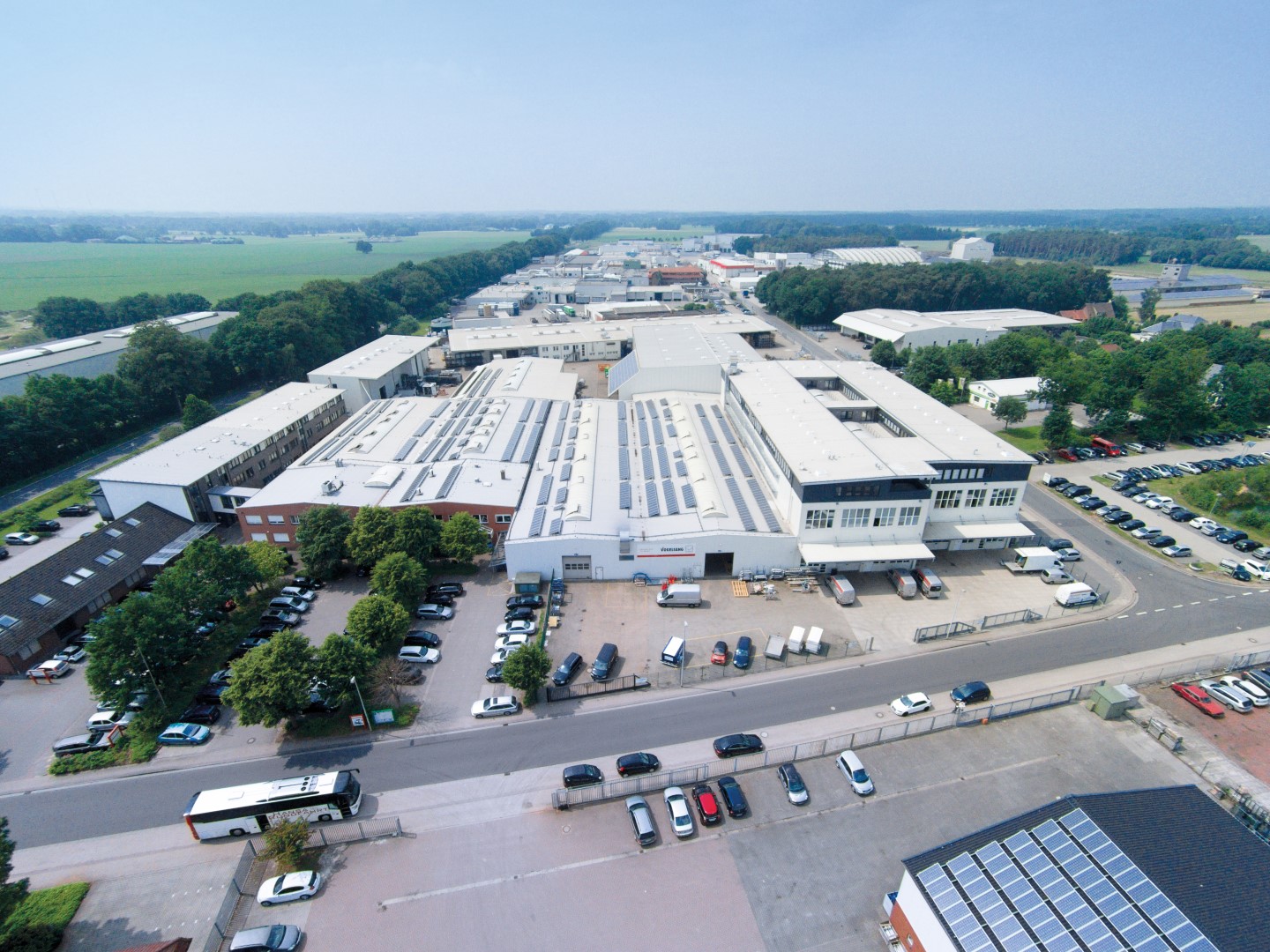 From teacher to CEO -
Maria Vogelsang-Verhülsdonk
When Maria Vogelsang-Verhülsdonk walks through the corridors at Vogelsang, she is proud of what she
has achieved in this company. With good reason, Maria Vogelsang-Verhülsdonk was awarded a prize
for her lifetime achievements in business in 2015 by the regional development association "Verbund Oldenburger Münsterland". "The company is a role model for how a family-run business can be successfully developed."For many years however, she found herself torn between two worlds. Ever since childhood, Maria has
been well acquainted with entrepreneurialism. Her father was the owner of Holtkemper Transport GmbH.
Despite this, Maria opted to train as a sports teacher and actively practiced this from 1970 to 1986 at the high school Löningen in Germany. In 1957, she married the engineer Helmut Vogelsang. When he passed away in 1976, besides her role as a sports teacher, she also took on management of the Vogelsang company, thereby continuing her husband's legacy.
As a high-energy boss, she changed what was then still a private company into a limited company (GmbH), appointing an external management team for the business side. During the initial phase, she was assisted by a general manager. When Maria Vogelsang-Verhülsdonk married engineer Burkhard Verhülsdonk in 1979, she at the same time acquired a valuable aid for technical matters. During the mid-1980s, the company encountered financial difficulties, however. Disappointed by sections of the management team, the passionate academic finally gave up her job as a teacher and joined the company full time in February 1986, with the goal of maintaining the company for the next generation. In doing so she took the advice of her brother to heart, who had told her: "Being present as an owner is essential at all times. The important thing is being there."
A successful combination of expert knowledge and female intuition
Single-mindedly, Maria Vogelsang-Verhülsdonk therefore took on this challenge too and, continuing to train and educate herself, appointed new staff members and more professional experts to work alongside her.
During this time the Vogelsang product range underwent something of a sea change. Production of wooden barrels was ceased and new, market-oriented products such as the dribble bar systems were launched.
At the same time, besides the agricultural segment, new markets were to be opened up, and as a result Vogelsang became established in various industry sectors.
As a woman, Maria had to reassert herself time and time again to gain the acceptance of her colleagues
and employees in her role as managing director. Her upright, no-nonsense approach to her work enabled
her to lead the company through this critical phase. It was down to her skills alone that the next generation has been able to enter the company too and develop it further to become what is now known throughout the world as Vogelsang.
Regardless of how difficult the circumstances were, the former sports teacher proved her prowess in this area too and never gave up. She remained true to herself at all times and was able to win over others due
to her credibility and motivational powers. Her commitment as well as the exemplary way in which she got involved, combined with her hands-on approach, proved the foundation for equal opportunities and for
collaboration on a level playing field irrespective of gender. For this reason, Maria is the pioneering figure
of "Women at Vogelsang".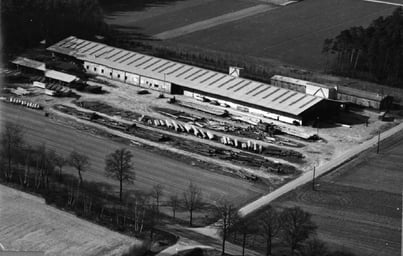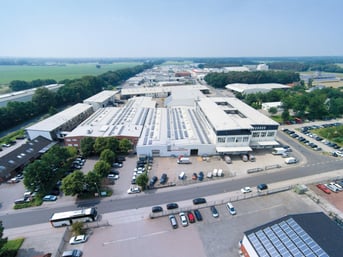 The Vogelsang company in 1970 and in 2017
Woman power: Qualifications for equality
Although women are in demand in technical and scientific positions throughout Germany yet remain very rare, today the company can boast around 90 women among its workforce of 900 – 23 of whom are employed in technical roles. The first technical drawer, Heike Ellmann, was even appointed by Maria personally in 1992.
Here THINK RED! introduces you to four women at Vogelsang who have embarked upon technical career paths and faced up to the widest variety of challenges.
Nadja Hüdepohl
Research & Development Department
Nadja Hüdepohl is 32 and a graduate physicist. According to her friends, she is an inquisitive and attentive person. From an early age, she showed a great interest in technical matters and wanted to know how things worked. At school it was subjects like mathematics and the sciences that excited her the most. As a result, before long it became clear to Nadja that she wanted to train for a technical profession. As it was research and development rather than design that interested her, she decided to study physics. This proved to be a real challenge but one which Nadja mastered by the constant acquisition of expertise in this area. Nadja describes her time at university as exciting and interesting and, as we might expect, it was scientific collaborations on various projects and research in physics that gave her the greatest pleasure.
Alongside her own studies, she therefore gave tutorials of her own at the university in her free time and worked as a teacher at a private school to begin with after graduation, among other roles, where her goal was to inspire other young people with her love of physics and academic theory.
Over time, however, the graduate physicist found that she missed the practical side of research. This was
why she took the opportunity when it arose to apply to Vogelsang. Even during her very first project "Medium infrared (MIR) sensors for the management of farm fertilizers," she knew she had made the right decision and this merely strengthened her desire to dedicate herself fully to her passion for research.
For three years now, Nadja has been employed at Vogelsang in the Research and Development department. In particular, she appreciates being able to work independently and be responsible for her own work. She also loves the variety her work affords her. When Nadja is asked what she most enjoys about her job, she replies:
"Thorough investigations into technical developments and the application of comprehensive test methods, together with analysis of test data, are a life blood for me. In other words, searching for solutions and finding them."
Annemarie Hüdepohl
Research & Development Department
Annemarie Hüdepohl is 30 years old and has been employed at Vogelsang since 2012 where she is a team leader in the area of plant technology. She trained as a technical drawer and then commenced university
studies in mechanical engineering. Today she designs new products and is involved in launching these onto the market.
Annemarie's enthusiasm for technical plants started with an internship at Vogelsang. During this time she was able to acquire a valuable and exciting insight into the area of design and was fascinated by the wide variety of this work, which in turn motivated her to complete an apprenticeship as a technical drawer. However, Annemarie still had a desire to further develop herself professionally, however, to understand
more and immerse herself more deeply into the world of matter. It was for this reason that she decided to pursue further studies in mechanical engineering. She wrote her bachelor thesis at Vogelsang and after she graduated was offered a permanent position at the company.
Over the years Annemarie has had to overcome new challenges time and time again, including many that went beyond the scope of her role – for as a woman she had to push herself twice as hard to be taken seriously and gain the acceptance of those around her. Even today she occasionally meets with skepticism from men, which she counters with humor and her wealth of expertise.
Even after six years, the mechanical engineer takes great pleasure in the variety her work offers as well as in the design of parts or products. Above all, however, this is because she has the opportunity within the company to accompany products, starting from the design and production stages to final assembly and installation at the customer site. During the entire development process, she is involved in the decisions – and is already looking forward to the tasks and projects that lie ahead.
Andrea Wichmann
IT Application Development
Always in a good mood and in search of a solution – that's how Andrea Wichmann, 38, team leader in IT application development, is best known. Having started out as an office clerk, she then studied for a vocational diploma and subsequently business IT. It was her apprenticeship that triggered her curiosity for IT however. As well as using computer programs, she wanted to know how they worked and learn about their underlying system architecture.
During her university studies, Andrea completed a work experience semester at Vogelsang, where she also wrote her thesis. She won over her colleagues with her know-how and commitment so that, when she graduated, she was offered a position as an application developer at Vogelsang. Whereas to begin with she was involved with the product configurators and had to become accustomed to their unusual programming language, today as an IT expert and team leader in application development, she faces very different challenges. For in a team of seven employees and two apprentices, it is not always easy to maintain an overview of what each individual has precisely to do. In addition this often has to be done promptly and in a sustainable manner and the desired changes cannot always be implemented immediately in the proAlpha Goods Management System. Such matters require a precise analysis of the relevant workflows and processes beforehand. But regardless of how stressful her job might sometimes be – even after eleven years, Andrea still enjoys going about her work very much. For there is no way she could now do without the new challenges she faces each day or the interaction with the various departments.
Maren Köwner
Departement of Warehouse Logistics
Maren Köwner is 40 years old and came to Vogelsang via a change of career. After an apprenticeship and 14 years working in the retail sector, she wanted a change of profession in order to face new challenges. When the opportunity then arose by chance to start at Vogelsang in the incoming goods area at Warehouse Logistics, she seized this straight away.
After three years in incoming goods, Maren has never regretted this career move. She describes herself as ambitious and flexible – and not without reason. During her initial phase at the company, she quickly grew accustomed to the systems, which she continues to use each day. She also had to familiarize herself with the details of the entire product range in order to be able to categorize the individual items in the warehouse correctly. It was just as important for her however to get to know the various Vogelsang suppliers, with whom she is in contact on a daily basis. The former retail buyer had to quickly develop a comprehensive understanding of the requirements of all those involved in order to be able to coordinate the various processes optimally. Looking back, Maren can testify that this initially steep learning curve as a member of what she terms a "super team" has contributed decisively to her rapid development. Nor has her enjoyment and dedication waned to this day. It is the organizational side of her job in particular that gives her the greatest pleasure – jointly solving problems, always maintaining an overview and, above all, being in contact with customers and suppliers.
Further links
All about the Vogelsang Company