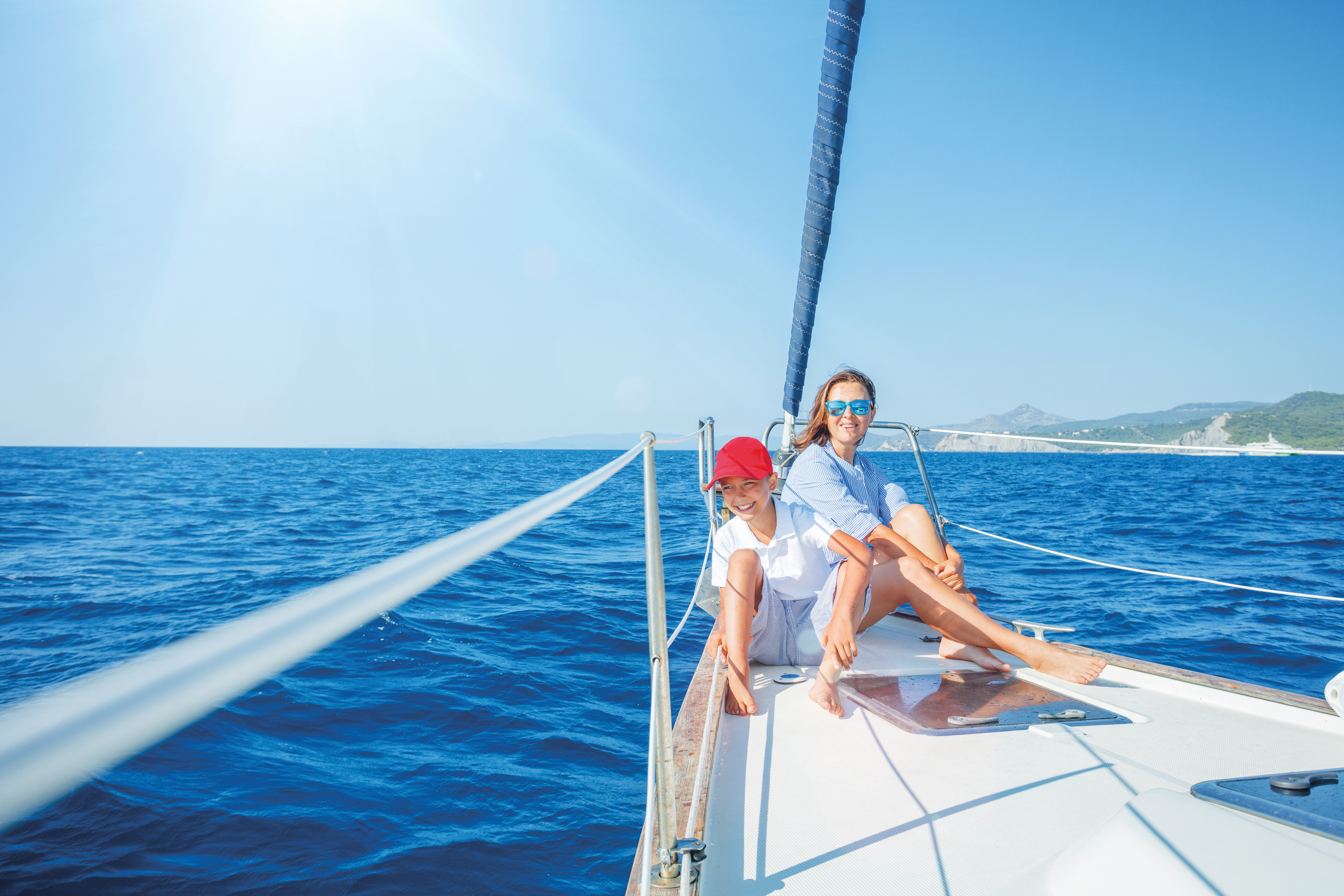 The PierPump by Volgelsang disposes of wastewater from boats simply, cleanly and reliably. It helps to obey the new environmental regulations. With the PierPump, disposal of wastewater and bilge water is as straightforward as refueling at a filling station.
Trips in sailing boats or motor yachts are a special way to experience nature. To ensure the water retains its quality in inland waters and remains attractive for tourists, skippers and port operators are increasingly paying attention to environmental protection. This includes the clean and hygienic disposal of wastewater from on board boats. More and more ports are therefore fitting their docks with disposal stations, scoring points for both environmental friendliness and customer friendliness.
According to information by the Research Association for Sport and Leisure Shipping, there were around 480,000 owners of sailing and motor boats in Germany in 2016. From young families with small children to pensioners – boat owners want their vessels to be as comfortable as they are safe, to which modern and perfect working sanitation facilities are also integral. Besides the requirement for comfort, environmental aspects also play a significant role for skippers. More and more boats collect wastewater form the WC or bathroom and kitchen in appropriate tanks. Depending on their frequency of use, these need to be emptied two or three times a month – ideally on land of course for the sake of the environment.
The Netherlands has strict regulations in place on the disposal of wastewater for domestic and foreign sports boats: Since January 1, 2009, it has been prohibited for new or old boats or yachts to dispose of their wastewater in public waters. In Germany, laws vary depending on the relevant location (federal waterways, state waterways, North Sea or Baltic Sea). Gerard Schermer, Marina Manager at the Stichting Yacht Port of Wartena in the Netherlands, therefore sees the onus as lying with docks above all: "If we want more water sports enthusiasts to use their wastewater tanks on boats, we also have to make sure that they can be emptied quickly, cleanly and without any malfunctions." With 600 berths, the yacht port of Wartena installed a PierPump by Vogelsang in 2014 for this purpose.
Disposal of wastewater as simple as refueling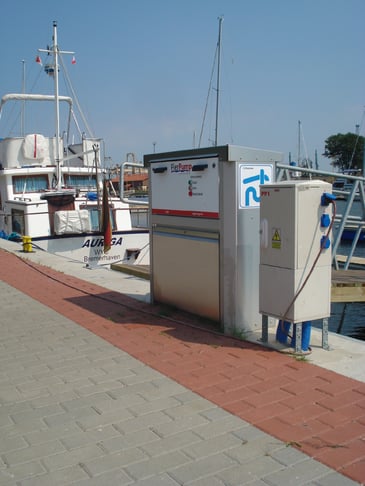 If wastewater stations are simple to operate, they will also be used. This is the experience of Port Manager Gerard Schermer at least. With the PierPump, disposal of wastewater and bilge water is as straightforward as refueling at a filling station. "Whether it's for a brief stop­over or after a long sailing trip, our pump station is environmentally friendly and user-friendly at the same time. We placed great importance on this during the design," says Christoph Meyer zu Holsten, Project Manager of the Transportation Department at Vogelsang. Boat users merely need to connect the wastewater tank to the PierPump hose and start the pump via the push of a button. Wastewater and bilge water are suctioned out hygienically and odorlessly. Another advantage is that the pump is immediately ready for use again. The tank is drained in less than five minutes.
The Vogelsang range includes various models, with the PierPump S160 and SB160 the two bestsellers. The PierPump S160 collects wastewater quickly and effectively even when it contains substances that are loaded with foreign matter. With the PierPump SB160, bilge water from boats and yachts can be removed, in addition to wastewater. At the heart of both variants is the VX series Vogelsang rotary lobe pump. This pumps the fluids and conducts them directly into the port's sewage system. No additional personnel are required to oper-ate the PierPump. Boat users initiate the disposal of their own accord and pay beforehand in cash or via the card reader, or with tokens via the prepayment meter. Universal connections guarantee all boats and yachts that moor up will be able to use the suction station. The pump will work without any problems even at freezing temperatures. This is ensured by optional electrical heating elements.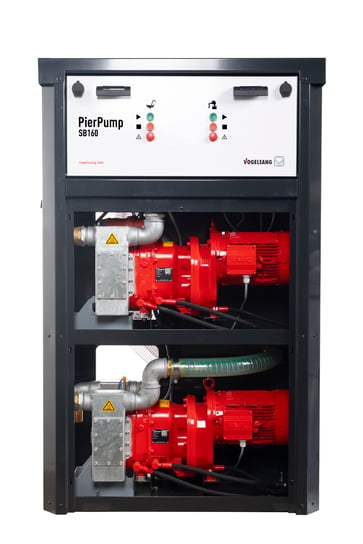 The right design for every port
The compact design of the wastewater pump requires little space. The PierPump S160 is just one meter high and requires just over half a square meter of floor space. The stationary version is permanently fixed to its installation location. For portable usage, additional mobile versions are available with various carrier systems. If a yacht port requires several suction stations, a PierPump multi-station system can be installed, which connects various suction points with a central pump station to a disposal network. Using additional equipment options, the PierPump can be adapted to the individual requirements of each and every port, such as via a timer relay for timing the usage period or an operating hours meter. The stainless steel housing of the PierPump is available in different grades and will defy all weather conditions. For special requirements, Vogelsang also offers a stainless steel version for the pump housing and the corresponding connections. A further plus point for port operators is QuickService: The design concept of the VX series rotary lobe pump makes maintenance very simple, all wear parts can be replaced within the shortest of times without removing the pump.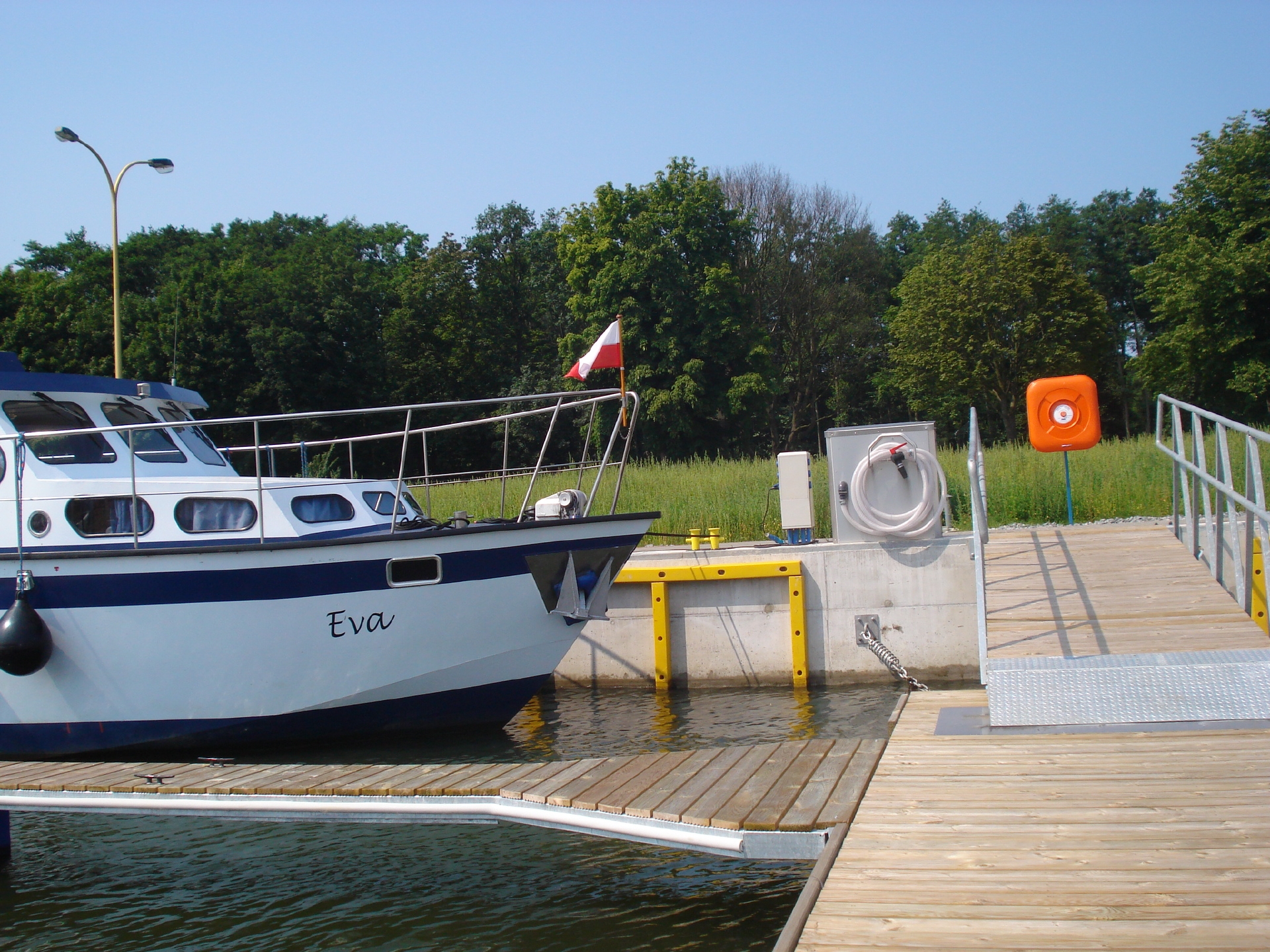 After 5 years of PierPump use, Gerard Schermer appears highly satisfied and also receives positive feedback from boat users: "Since we installed the PierPump, use of the wastewater station in our yacht port has increased considerably." And it's all for the good of the environment – on land and in water.
"Feedback from our customers has been extremely positive"
Interview with Christoph Meyer zu Holsten, Project Manager of the Transportation Department at Vogelsang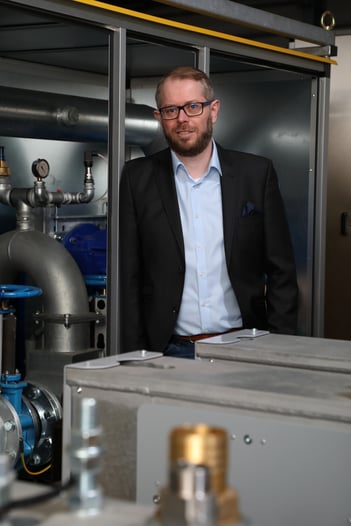 THINK RED!: Mr. Meyer zu Holsten, how is the PierPump assembled in ports or at wharves? Is there anything particular that needs to be noted?
Christoph Meyer zu Holsten: Our wastewater pump is not only simple to operate but easy to install too. The installation is straightforward. It can either be per­formed by our assembly team or – following appropriate consultation and briefing – by the operator in person. Needless to say, we provide the connection plans for the required installation of pipework and cables and will also be on hand to provide helpful tips and hints.

What have been the experiences of port operators and users of the PierPump?
Feedback from our customers has been extremely positive. The users are delighted with the straightforward, hygienic and rapid disposal of their wastewater. The operators in turn have, in particular, praised the performance capability of the rotary lobe pump used in the PierPump. Compared to diaphragm pumps, they score high marks with their high delivery capacity and reliability. Virtually no malfunctions occur. This is a key point for port operators: the PierPump enables them to offer an additional customer service. The input in terms of time and costs is modest how-ever. In addition, all wear parts can be replaced in a service-friendly fashion without removing the pump. Any malfunctions that do crop up, contrary to expectations, can be eliminated easily.

So the PierPump and the offer of wastewater disposal increases the attractiveness of ports?
I think so, yes. Boat owners decide on a port based on the services available there. Besides the facility being well cared for, clean sanitation facilities and high-power WiFi, other services such as the ability to dispose of wastewater rapidly play a key role. Ports that offer this service enjoy a key benefit. And let's not forget environmental aspects too. Clean waters and a clean port make a considerable contribution to improving the image and attracting boat owners.

Besides a clean environment, what are the particular benefits of the PierPump?
Firstly, as I mentioned, the competitive advantage afforded to port operators who use it. In addition, wastewater disposal opens up an additional source of income for ports via the payment of a fee. What is remarkable about the PierPump, however, is that thanks to its compact, space-saving design, there is no need to sacrifice valuable space such as a wharf to install it. Its reliable technology and the availability that comes hand in hand with this will conserve both the nerves and the wallets of port operators. To ensure it operates without any problems too, we also offer our customers a reliable after-sales service. In this way any questions can be answered quickly without delay.

Related links:
More about the PierPump
All about the market of transportation