High quality made sustainable - energy and resource-saving production at Vogelsang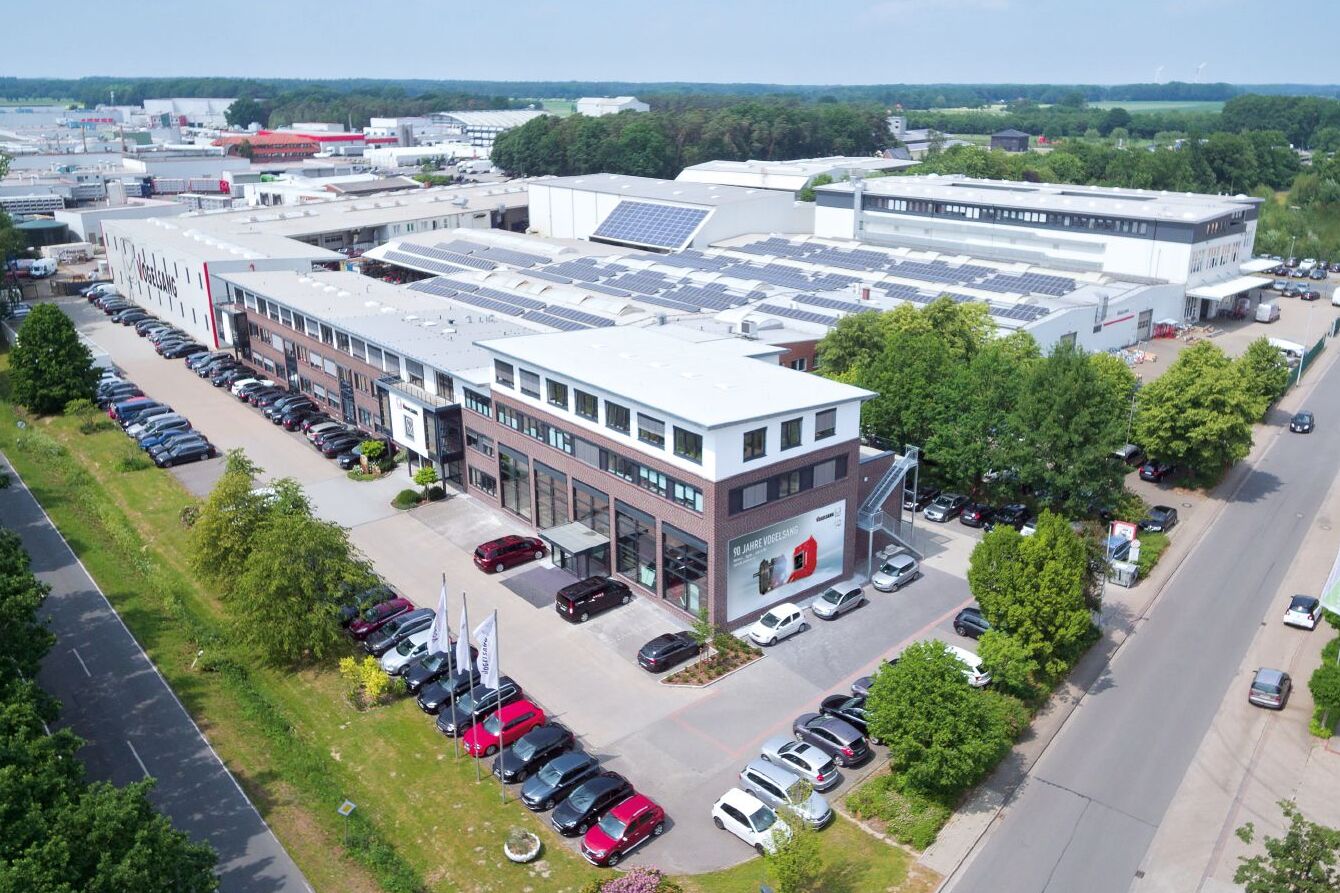 As a successful international company, Vogelsang GmbH would never simply boast about being a manufacturer of environmental technology – but it's an irrefutable fact that Vogelsang products are often used in environment-related sectors and fields, or even specially developed for such purposes. We have machines and systems all over the world that help to make the collection and cleaning of waste water more energy-efficient. Vogelsang system components even help to improve efficiency in biogas plants, while spreading technology "Made by Vogelsang" ensures precise and environmentally friendly use of liquid manures in the agricultural sector.
In addition, companies in the recycling industry also place their trust in Vogelsang's experience. When used as a rotary lobe generator the pump technology invented by Vogelsang is the first choice when it comes to converting water pressure into electrical energy.
It's no coincidence that Vogelsang technology has become established as an environmentally friendly
alternative in so many different fields. It's all down to the fundamental principles and sense of responsibility
held by the family that owns the company, which shape every aspect of its business.
As experienced entrepreneurs with a nose for business, the Vogelsangs earmarked energy at an early stage as a factor that could set their company apart from the competition. They also recognized the need to treat their resources with care.
"We wouldn't have been able to turn Vogelsang GmbH & Co. KG into an internationally successful company if we didn't see these requirements as an opportunity. The same applies to our own operations: In order to bring our personal requirements in line with the need to put the company in a secure and sustainable position for the future, we make sure that our production saves on energy and resources wherever possible," says Hugo Vogelsang, summing up the company's approach.
"In the modern world, making high-quality products also means looking after people and the environment."

Hugo Vogelsang
Graduate Engineer and CEO of Vogelsang GmbH & Co. KG
Buisness in good conscience
With this in mind, it's no wonder that the Managing Director in charge of production is able to name plenty
of examples as evidence of his quest for sustainability. However, it's the little things that make the biggest
difference: "As an example, the very high degree of vertical integration at our own factory enables us to cut
transport routes for heavy parts by many kilometers. This means less pollution from CO2 emissions, less noise, more direct delivery, etc.," says Hugo Vogelsang.
The company also works with local suppliers wherever possible. Most cast parts are supplied by a foundry just a few kilometers away. Meanwhile, gathering up scrap from cast part production, sorting it by type and loading it back into the truck before it makes its return journey is a well-established part of the long-standing business relationship. This cuts out unnecessary journeys to the scrap trade and the additional transport they would entail. Vogelsang also applies the same practice to other production scrap and waste. Wherever possible, any leftover material is collected and sorted by type to ensure it is recycled as best as possible.
This approach is also successful in reducing quantities of waste and leftover material. For example, the company has been able to reduce its paper and cardboard tonnage by 40% through measures such as consistently recycling the paper and cardboard packaging it receives with its deliveries. The company has also analyzed and improved the processes for its in-house coating plant. For over 15 years, Vogelsang has been using a solvent recovery unit to reduce its net consumption. By switching to high-solid paint, modernizing its spraying system and – last but not least – making logistical adjustments, it was possible to place 25% less paint and coating waste in the disposal over the last three years.
Chips – a leftover that still has plenty of potential
Saving both the environment and our budget is a philosophy that also governs the CNC manufacturing process for certain workpieces at Vogelsang. We don't just filter the cooling lubricants we require for chipping like many other companies do – Hugo Vogelsang also began optimizing the programming for its CNC machines years ago: "Instead of continuously conveying the chips into chip containers as the manufacturer intended, we only run our chip conveyor at intervals. This discontinuous operation offers two advantages: It significantly reduces energy consumption and also results in the chips being left on the conveyor belt for longer. This means that even more cooling lubricant can drip off and be channeled back into the machine to be used again," the professional mechanical engineer explains.
This little trick has proven to be such a great advantage that some manufacturers have now integrated interval operation for the chip conveyor into the controls of their CNC machines as a standard feature.
In order to collect even more cooling lubricant and make the chips as dry as possible, Vogelsang also uses specially shaped chip containers and collection containers. "At the end of the day, the chips have a level of dryness that other companies can only match by using an additional, more energy-consuming treatment of the chips, e.g., by employing a briquette press. Thanks to our well thoughtout chip-handling process, we don't need that energy at Vogelsang," says Hugo Vogelsang, giving the final word on his CNC production designs.
"Manufacturing our products and systems requires resources that are important to the environment. As such, we strive to be as careful and frugal as we can with such resources."

Extract from the Vogelsang GmbH & Co. KG mission statement
Putting cost reduction into perspective
The sun shines for free and doesn't harm the environment. This is why many Vogelsang workspaces are fitted with plenty of glazing and sunroofs to let in as much light as possible. And where daylight still isn't
enough to keep the workstations well lit, it goes without saying that Vogelsang uses modern, energy-efficient lighting. What makes the lighting concept unusual is the sensors, which detect the intensity of the daylight and only provide as much extra light as is actually necessary. Motion sensors are used to ensure that additional lighting is only active in areas where employees are actually present. All in all, this keeps Vogelsang's energy consumption for the lighting in its production halls relatively low. In keeping with the motto "We can still do more," however, Hugo Vogelsang has already got further optimization ideas up his sleeve for the lighting in future production halls. The concept has also been applied throughout the company's social spaces, offices and hallways in order to prevent any energy from being wasted while also ensuring that working conditions are as pleasant as possible.
A positive energy balance – it's in the bag
Our efforts to continually improve the way we handle energy and resources are also reflected in the concrete figures. In spite of our increase in production output and workforce size, we have been able to
keep our electrical and gas consumption at a constant level. At the same time, our in-house photovoltaic plants are producing an average of 190,000 kWh of electricity per year. Two of these plants are running at the Essen Oldenburg site, while another is situated in Lutherstadt Eisleben. On a sunny day, the two plants in Essen Oldenburg alone produce up to a quarter of the power we need.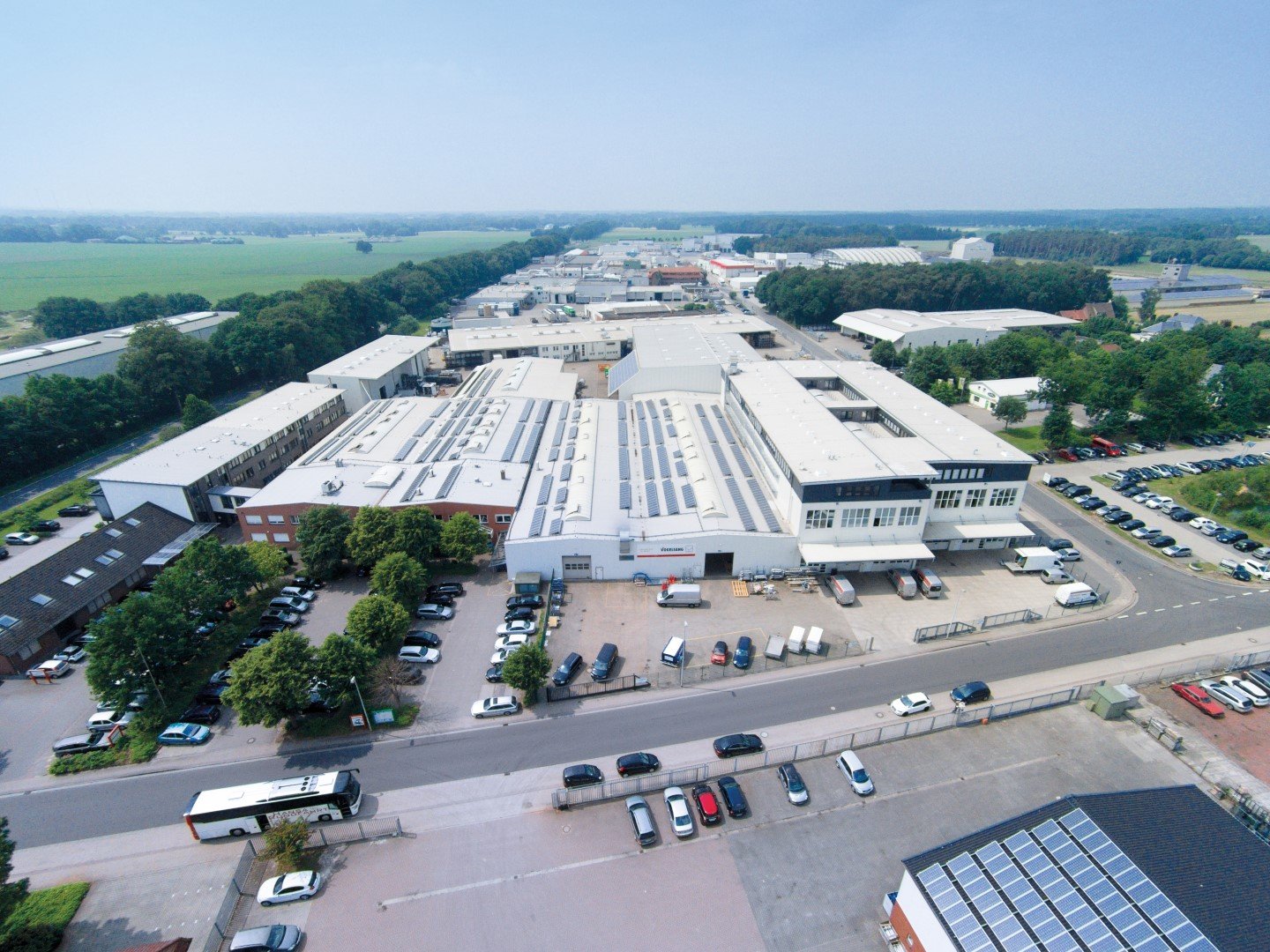 The company's in-house photovoltaic plants produce an average of 190,000 kWh of electricity per year.
Putting energy recovery through its paces
However, the absolute highlight for Hugo Vogelsang in terms of saving resources is our two ingenious pump test benches in Essen. After all, lost heat means lost energy, which means the conventional technology is outdated. Pump test benches usually use a throttle valve to build up the pressure required for testing. While simple and cost-effective, this method also has the disadvantage that the electrical energy it uses to drive the pump is converted into head energy, and thus is lost. On top of that, this process also causes the test medium to get very hot, so further energy is required to cool it down as meaningful test results are required. All of this is impossible to reconcile with Vogelsang's environmental principles – which is why our pump test benches use a principle found in many modern cars: The "braking energy" generated when building up the test pressure is recovered and fed straight back into the system. This is more complicated than it sounds, however. It requires a sophisticated, ingenious installation – a challenge relished by a machinery constructor like Hugo Vogelsang, and one that has been paying off for many years. Pick up our next edition to find out how we recover "braking energy" at Vogelsang.
"In order to achieve the targets we set ourselves, Vogelsang GmbH & Co. KG measures and analyzes all
the important environmental factors. Our suppliers and business partners are actively asked to work according to our environmental policy in order to ensure that the relevant environmental targets are met consistently," Hugo Vogelsang emphasizes, demonstrating his impeccable understanding of the market. After all, in the modern world, making high-quality products also means looking after people and the environment, and being able to provide one's customer pool with the right selling points.
---
Exercising care and responsibility in our use of resources in our mission.
In its mission statement, Vogelsang GmbH & Co. KG pledges to always employ a responsible and sustainable approach in its use of resources.
This means saving and being frugal with resources and not only consistently complying with all the applicable environmental laws and regulations, but also making additional effort to go above and beyond what they demand. This is why the continual improvements we make in how we handle environmentally sensitive resources – which may only seem like small steps on the surface – are reflected in the company's objectives. In addition to this, an energy management structure has been implemented in accordance with DIN 16247-1 and certified by an authorized environmental auditing organization.
---
Further links
All about the Vogelsang Company
Discover the virtual showrooms